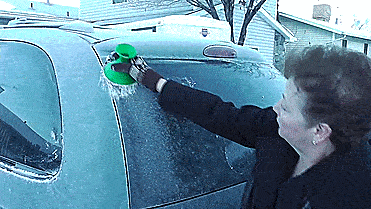 REMOVE SNOW & ICE ON CAR WINDSHIELD: The round ice scraper is a great design for removing ice & snow from your car windows. Cleaning windows is faster than traditional ices scraper.
BREAK THE ICE SAFELY: The spikes part can be used on thicker ice on you car windows. And will not scratch the car windows.
QUICK & PORTABLE: The cone-shaped makes it extra comfortable to grasp. Using this 6.8″ diameter ice scraper, you will remove snow faster.
MULTIFUNCTIONAL FUNNEL: The ice scraper not only works as a car window scraper, but also can work as a funnel.
3 REMOVABLE ICE BREAKERS FOR REPLACEMENT: This ice scraper comes with 3 removable ice breakers. This is a perfect combination and a good investment for you.
Not only is this Magical Car Ice Scraper one of the best ice scrapers there are, but it also works as a funnel to easily add washer fluid to your car without spilling all over the place. Just remove the tip of the ice scraper and it instantly turns into a funnel.